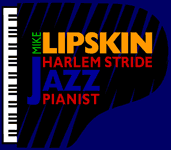 For more than three decades local jazz fans and those from remote parts of the United States and Europe have come to San Francisco's night spots and concert venues to hear jazz pianist Mike Lipskin perform sparkling musical gems in the Harlem Stride jazz piano style. Only a handful of contemporary jazz pianists can play Harlem Stride, the sound of Fats Waller, James P. Johnson, Duke Ellington, and Art Tatum. Very few of them play Stride consistently. Mike is one of these exceedingly rare pianists and has even created his own stride sound. He's also one of the few writing new pieces in this vibrant full jazz piano sound, some of which can be heard on his recordings for Buskirk Productions and Downtown Records. He's played Carnegie Hall, Davies Symphony Hall,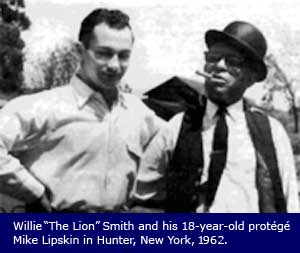 92nd Street "Y" and Newport Jazz Festival, and appeared in the jazz documentary film, "A Great Day In Harlem," nominated for an academy award. He helped edit and supplied his rare photos for a book of the same subject, "The Great Jazz Day". Lipskin also helped produce, comments and appears in an American Public TV documentary on Willie The Lion Smith.

He was music director for and performed in eight"Stride Summit" concerts at San Francisco's Davies Symphony Hall and Masonic Auditorium; SF Jazz, the last one occurred in August 2013. He performed with Woody Allen and Dick Hyman in New York City and had a 23 concert European tour in conjunction with his first release on the Swiss label, Downtown Records. Lipskin has five recordings to his credit and working on his next project for Buskirk Records.

In the words of the Los Angeles Times jazz critic, Leonard Feather, "Lipskin displays the virtues of technique, soul, freshness, and the spirit of youth in his flawless interpretations of Stride pieces." The late, great Eubie Blake also confirmed that "Mike Lipskin plays Stride bass with perfect accuracy." The legendary record producer, Jerry Wexler, adds: "He's fantastic 'cause first of all, he's got chops, he doesn't fumble, he's got that stride thing." Fats Waller's guitarist, Al Casey, when hearing Lipskin's latest CD exclaimed, "I think I'm with Fats right now."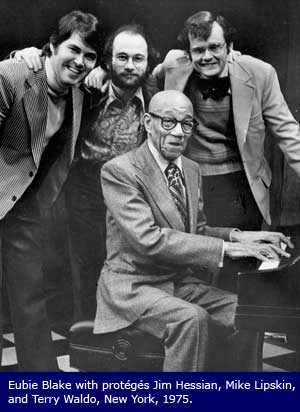 Born in New York, Mike first fell in love with Waller records from his father's collection when he was 4 years old and was hooked on the style from then on. By the time he was in high school he was traveling to Harlem, learning from the remaining Stride masters such as Willie The Lion Smith, Luckey Roberts, Cliff Jackson, and the amazing Donald Lambert.

Mike was a producer at RCA Records, New York. During his 13 years there he produced historical reissues for the Vintage Series, developed engineering skills and improved a widely acclaimed analogue technical process for rehabilitation of ancient recordings. He also produced new albums by artists such as Lighthouse, Gil Evans, Blue Mitchell, Cedar Walton, Lonnie Liston Smith, Roger Troy and Ryo Kawasaki edited, mixed, and mastering product by Chet Atkins, Sam Cooke, Elvis Presley, Jefferson Airplane, Brian Auger, Duke Ellington, Erroll Garner, Dizzy Gillespie, among others.

He practices trademark, entertainment, and real estate law in San Francisco. email mike : hepnotes@yahoo.com